Best Restaurants in Ontario, CA
Unsure where to eat in Ontario? Want to try something new in the Rancho Cucamonga area? Check out this list of best restaurants in Ontario, CA to sample delicious local cuisine, courtesy of Citrus Motors Ford!
Beola's Southern Cuisine
In the mood for some soul food? Check out Beola's Southern Cuisine! Fresh ingredients go into classic soul food dishes created from scratch for a one-of-a-kind dining experience. Appetizers range from shrimp to biscuits and gravy, and entree highlights include a fried seafood platter, specialty chicken and waffles, oxtails with butter beans, and more.
Market Broiler Ontario
For fresh seafood, handcrafted cocktails, and scrumptious desserts, Market Broiler Ontario is the place to go. This restaurant features a newly upgraded seasonal menu with dock-to-dish options, along with classics from years before. Start off with a chilled prawn cocktail or fresh steamed clams, and move on to entrees like chipotle mango ahi, macadamia nut mahi, or fisherman's stew (which includes lobster, shrimp, scallops, king crab, and more). Finish it off with a seasonal creme brulee, butter cake, or a chocolate chip toffee skillet, all made from scratch.
Porter's Prime Steakhouse
Serving premium steaks cooked to perfection in a 1,500-degree broiler and coated in a signature rub, Porter's Prime Steakhouse promises quality, flavorful food to residents in the Fontana area. Take your pick from various cuts of steak, spiced rubbed duck, or pappardelle summer vegetables. Top it all off with a specialty port or cognac.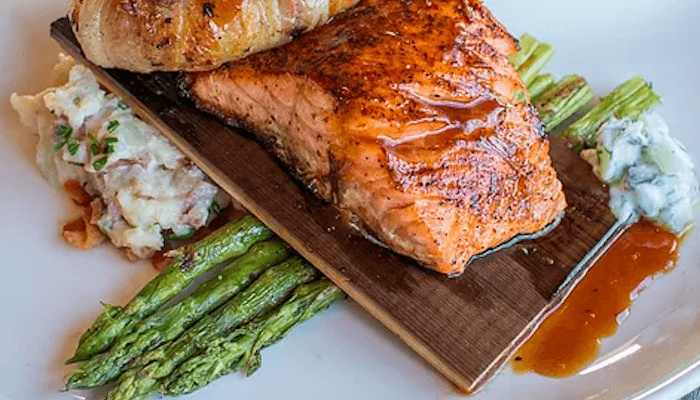 Image courtesy of Market Broiler Restaurants
The Olive Grill
For a completely unique blend of flavors, The Olive Grill is a must-try restaurant. This spot is especially popular for its Korean BBQ, but its Korean BBQ fries come with cheese, jalapeno, and tender meat to evoke a Tex-Mex vibe. Other menu highlights include a spicy pork sandwich, teriyaki bowls, noodle dishes, and more.
More Restaurants in Ontario, California
For more restaurants in Ontario, California, make your way from Alta Loma to the following spots for a range of ethnic foods:
Alina's Lebanese Cuisine
Vince's Spaghetti
Panda Inn Restaurant
Lucky Elephant
El Pescador
Get More Recommendations on Where to Eat in Ontario from Citrus Motors Ford!
Feel free to get in touch with Citrus Motors Ford for more recommendations on the best restaurants in the area, as well as other popular local things to do! We're always happy to help, including providing directions to get to Ontario, CA!
Recents News from Citrus Motors Ford
When it comes time for your new tires, it's important that you select the right kind of tires not only for your vehicle but also for your driving needs. There are three major types of tires that are generally used for passenger cars and light trucks. These include general use passenger tires, all-weather tires, and…

Seasonal Maintenance Milestones For Your Vehicle https://t.co/JoGN4AZa31 pic.twitter.com/EIU3xfTuNR — Scamper smith (@ScamperSmith) October 4, 2017 With summer ending, and fall beginning, it is a good idea to ensure that you are ready for the conditions of fall by bringing in your car for a tune-up. We can inspect your tires for proper inflation and replace…

Getting in the driver's seat of your brand new car is an experience most car owners never forget. There's nothing like the first ride in the car you picked out, the one that was everything you wanted, the one that beat the competition and proved to be everything you wanted. Of course, even after that…