How to Program a Ford Key Fob in Ontario, CA
Are you driving a new Ford around Ontario, CA? Did you recently get a set of replacement car keys? Either way, you may be wondering how to program your Ford key fob. Luckily, Citrus Motors Ford has you covered! Remote key fobs provide quick and easy vehicle access, but you want to be sure yours is working properly. Follow the steps below in our Ford key fob programming guide!
Schedule Ford Service at our Ontario, CA Ford Service Center
Need assistance programming your Ford key fob? Let Citrus Motors Ford's expert service technicians do it for you! Our Ford Service Center team can help you properly program your key fob. Schedule a Ford service appointment with our expert technicians and get your Ford truck, car or SUV taken care of today!
Rather do it yourself? Continue reading below for how-to instructions.
Ford Key Fob Programming Instructions
Follow these instructions to learn how to program a Ford key fob in Ontario, CA. These instructions will allow you to confidently set out on any journey around Ontario, CA, knowing that your Ford key fob is functioning properly:
Close all doors on your vehicle. Proceed to open the driver-side door, where you will press the UNLOCK button
Turn the ignition from OFF to RUN 8 times, within 10 seconds. End on RUN the last time to enter programming mode.
At this point, the door locks will lock and unlock. Note if the door locks do not do this. If they don't lock and unlock, start over and turn the key faster. Unless the door locks cycle between lock and unlock, you may not have keyless entry.
Within 8 seconds, push any button on your Ford remote to begin programming. The door locks will again cycle, which confirms keyless entry is programmed and ready for use.
If you have a second remote Ford key fob, take that Ford remote and press any button within 8 seconds to begin the door lock cycle. Repeat for any other key fobs you have.
When you have programmed all of your Ford key fobs, turn the ignition to OFF. The door locks will cycle one last time to confirm programming completion.
Ford Intelligent Access Key Programming Instructions
Do you have a Ford Intelligent Access key fob that you need to program? Whether you have a new or a spare Intelligent Access key, follow these instructions:
Have your unprogrammed Intelligent Access key in the center console pocket, and keep two previously programmed keys inside the vehicle.
Press the driver and passenger power door unlock control three times.
Push down and release the brake pedal once.
Again, press the driver and passenger power door unlock control three times.
Push down and release the brake pedal once.
At this point, the Start/Stop button indicator should flash quickly, signaling that you've entered programming mode.
Within a minute, press the Start/Stop button.
A message will appear on the message center display that the new key was programmed.
Press the unlock key on the newly-programmed Intelligent Access key to exit the programming mode.
Check the new key's functionality.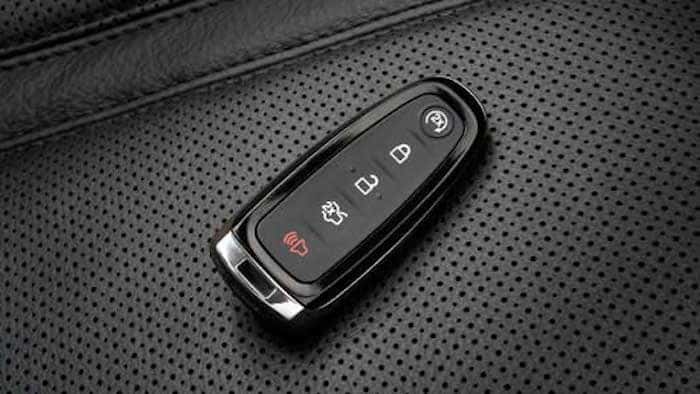 Where to Get a Ford Key Fob Made in Ontario, CA?
Need to get a Ford key fob made? Wondering how much a Ford Escape replacement key costs? For all your questions about Ford keys, contact our Ford Parts Center. Lost your old Ford key? You can order a Ford key replacement with our helpful parts order form.
Recents News from Citrus Motors Ford
When it comes time for your new tires, it's important that you select the right kind of tires not only for your vehicle but also for your driving needs. There are three major types of tires that are generally used for passenger cars and light trucks. These include general use passenger tires, all-weather tires, and…

Seasonal Maintenance Milestones For Your Vehicle https://t.co/JoGN4AZa31 pic.twitter.com/EIU3xfTuNR — Scamper smith (@ScamperSmith) October 4, 2017 With summer ending, and fall beginning, it is a good idea to ensure that you are ready for the conditions of fall by bringing in your car for a tune-up. We can inspect your tires for proper inflation and replace…

Getting in the driver's seat of your brand new car is an experience most car owners never forget. There's nothing like the first ride in the car you picked out, the one that was everything you wanted, the one that beat the competition and proved to be everything you wanted. Of course, even after that…