Ford Scheduled Maintenance Guide
Ford Maintenance Schedule in Ontario, CA
New Fords for sale don't stay new forever, which is why it's important to think about the future and how you can protect your investment. The best way to do so? Following your Ford scheduled maintenance guide closely to ensure optimal performance on the roads of Rancho Cucamonga for years to come. Ford service included in this maintenance guide, of course, includes oil changes, but there are more tasks involved in proper car care. Learn more with the Citrus Motors Ford Service Center!
Ford Service Intervals
Approximately every 7,500 to 10,000 miles, make sure to complete the following services:
Oil changes
Filter replacements
Multi-point inspection
Unsealed joint lubrication
Brake inspection
Parking brake inspection
Cooling system inspection
Exhaust system inspection
These tasks are the most important to complete on a regular basis, that is until your Ford model reaches the 100,000-mile mark. At this point, you will need to incorporate these additional services into your Ford scheduled maintenance guide at the following intervals:
120,000 Miles

Replace engine air filter
140,000 Miles

Inspect accessory drive belts
150,000 Miles

Replace accessory drive belts
Replace fluid on manual transmission
Replace orange coolant
DIY Ford Maintenance
Prefer to change your oil at your Fontana home? Want to know how to check your transmission fluid on your own? Citrus Motors Ford is here for you! We provide service tips and tricks on a regular basis so that you can learn more about how to care for your car at home. Our main advice is to always consult your owner's manual for specifics on service intervals, materials, and more.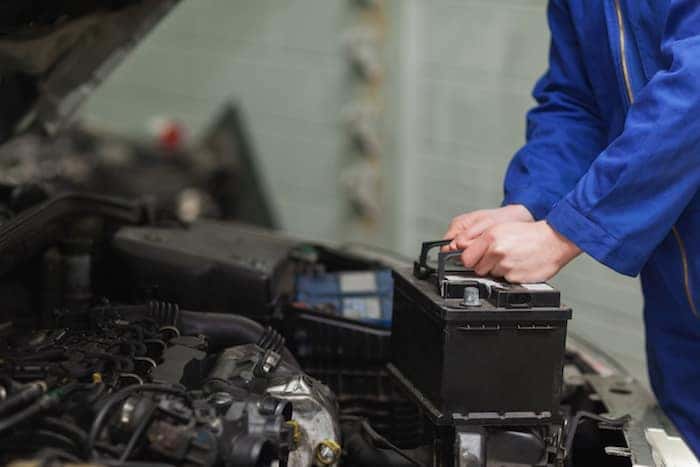 Why Is Routine Maintenance So Important?
Following your Ontario, CA Ford scheduled maintenance guide is important to keep your vehicle running smoothly, of course, but there are more benefits to regular Ford service. Safety is the main advantage, as bringing your car in routinely will help you prevent any potential danger. Plus, a solid maintenance record will increase your vehicle's resale value, meaning when you trade your car in for your next purchase, you can expect more for it.
Schedule Routine Ford Maintenance with Citrus Motors Ford
Have you reached your next Ford service interval? Count on the experienced technicians at Citrus Motors Ford! Schedule service online for an appointment in Ontario, CA and contact Citrus Motors Ford whenever you have any questions.
Recents News from Citrus Motors Ford
When it comes time for your new tires, it's important that you select the right kind of tires not only for your vehicle but also for your driving needs. There are three major types of tires that are generally used for passenger cars and light trucks. These include general use passenger tires, all-weather tires, and…

Seasonal Maintenance Milestones For Your Vehicle https://t.co/JoGN4AZa31 pic.twitter.com/EIU3xfTuNR — Scamper smith (@ScamperSmith) October 4, 2017 With summer ending, and fall beginning, it is a good idea to ensure that you are ready for the conditions of fall by bringing in your car for a tune-up. We can inspect your tires for proper inflation and replace…

Getting in the driver's seat of your brand new car is an experience most car owners never forget. There's nothing like the first ride in the car you picked out, the one that was everything you wanted, the one that beat the competition and proved to be everything you wanted. Of course, even after that…